Choose us?
28-03-2020
Whether you need warm for winter sports, work, riding motorcycles or just so you can enjoy the outdoors in cold weather. Lucky for you, we're here to keep you away from cold!
Look!
Our heated gloves are designed for skiing or other winter sports, hiking in cold weather and other many applications. We all know that no one likes to feel cold, right? Cold may be an annoyance for some, but it can also be a painful experience for others to suffer from cold.
This product adopts a new circuit design scheme and high-efficiency heat-generating materials. It has a large-capacity low-temperature resistant core and a high-strength protective casing. It can radiate far-infrared rays while energizing and heating, and promotes health effects such as blood circulation. The glove heat across the palms and all the way down to the fingers, so are a suitable option for those who struggle with poor circulation. They are also well constructed and durable. Users also reported that the heating controls were easy to use, and was sufficient to keep hands warm even in very cold temperatures.
The heated control part of the glove adopts the silicone button to control the three positions of high, medium and low, and shut down to ensure the consistency, stability and aesthetics of the operation. The heat-generating material uses the composite carbon fiber material with the highest heat efficiency in the industry.
This heated gloves use 3.7v batteries which are rechargeable and charge within four hours and come three heat settings. The gloves come with an LED indicator to show when the gloves are on and what temperature setting. It can still be used normally at-40 ℃.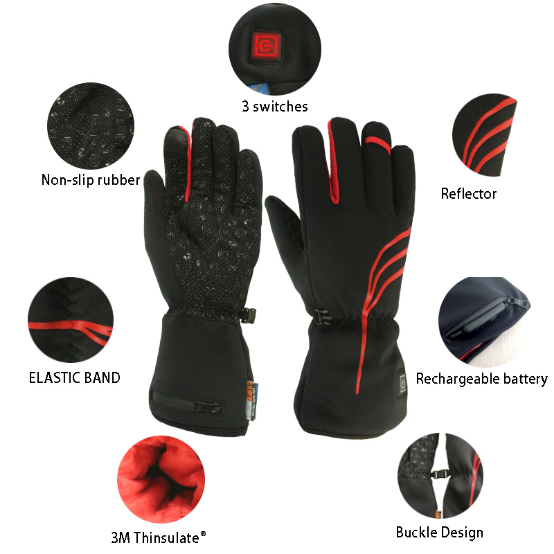 There are seven sizes to choose from and for the price, they are made of great quality materials and survive harsh conditions. The most difficult parts of your body to keep warm are your hands and your feet. So this heated gloves designed to help you keep warm in cold winters.