Heated Socks ---What is the best product in winter?
25-11-2019
In winter, will you want to warm yourself when you are outside? Heated socks is a heated product which can stay warm with you. And it is far infrared ray to help blood circulation, resistant heating and quick-warm, easy to use and keep your toes warm. The winter heating and warming products use nano carbon fiber as the heating material, which can radiate far infrared rays to promote blood circulation while it's on and heating up.
Do you want to warm your feet?
This product has characteristics of shock-absorption, anti-bacterial, anti-cold, and comfort. The heating elements are made by composite carbon fiber, with characteristic of high efficiency, high strength, high tensile and washable. During heating and keeping warm, the products also radiate far infrared ray to help blood circulation. The 3.7V Li-polymer battery can work well in negative 40 degrees with excellent safety guarantee. Due to its small size and large capacity, it greatly ensure the comfort and long heating time during wearing. The production of socks are completed by another processing of one special customized machine with advanced processing technology and strict material options, the heated socks have the advantage of convenient use, high heating temperature, long lifespan and washable.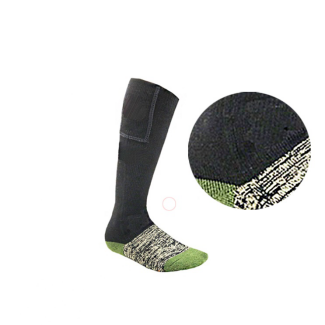 How to use?
There are two styles of heated socks, as remote control and battery control. And the heat-generating materials of the heat-socks are made of high-efficiency, high-strength composite carbon fiber, and the battery is made of a highly safe 3.7V high-capacity battery to ensure the longest service life while maintaining warmth. Up to 55-60 ° C, the use time is about 4 hours. The mid-range can reach 45-50 ° C, the use time is about 6 hours. The low-grade can reach 35-40 ° C, the use time is about 8 hours. Charging time is about 6 hours.